Soil Sample Preparation: The Basics
Soil sample analysis is an important step in many environmental research projects, such as those seeking to assess microbial diversity. Each soil sample has a unique makeup of biotic and abiotic components and may vary in chemical composition based on treatment with fertilizers and other additives. Soil sample preparation generally involves three stages: pretreatment, homogenization, and extraction.
Pretreatment: Prepare the sample for effective homogenization. This can involve drying out or wetting the sample, removing large sample components (e.g. twigs, stones, etc.) by sifting the sample through a mesh sieve of a particular size or manual removal, and grinding to loosen up any clumps. Pretreatment can change the chemical composition and microbial viability of a sample. Additionally, it can change how representative a sample is for the area under investigation. Depending on your application and sample type, pretreatment may not be necessary.
Homogenization: A common cell biology and molecular biology process where a sample is disrupted so all sample components become equal in particle size. It is performed to sufficiently lyse tissues or cells to maximize yield of target molecules, such as proteins, DNA, or RNA.
Extraction: The processes of isolating and purifying a target analyte, such as DNA, so it is ready for use in downstream analysis.
The specific protocol within each stage varies based on sample type and downstream application.
Examples of Soil Sample Types:
Soil/Rock
Sandy Sample
Litter
Brunisol - Dark Gray Luvisol
Grassland Soil
Rhizosphere
Marine Sediment
Asphalt-permeated Soil
Volcanic Ash Soil (Andisol)
Challenges in soil sample preparation
The complexities and diversity within environmental materials introduce some technical challenges for soil sample preparation. For example:
Soil samples contain a variety of microorganisms and other biological materials, including microorganisms, plant and animal tissues, and other cell types, complicating extraction procedures.
Samples can contain difficult to lyse cells such as bacterial spores, yeast, algae, nematodes, and fungi.
Soil is often abundant in contaminants, such as humic acids, that can act as inhibitors of downstream applications such as PCR, qPCR, and sequencing.
Variability in the composition of environmental samples in terms of pH, texture, and elemental composition makes it tricky to standardize sample preparation procedures.
Efficiently homogenize your environmental samples
Reliably isolate biological materials from even the most difficult samples by choosing an efficient lysis solution. An effective lysis procedure should generate reproducibility and consistency from assay to assay.
Mechanical homogenization using bead beating technology, such as MP Bio's lysis matrices, is an effective method for soil sample homogenization and cell lysis. Lysis matrices differ by size, shape, material, and composition.
When selecting the optimal lysis beads for your project, consider the toughness of your sample type, the particle size you wish to obtain, and the stability of your target molecule. Environmental samples often require a combination of materials, due to the diversity of materials within an individual sample.
We recommend using Lysis Matrix E, which is composed of ceramic, silica, and glass beads, and is designed to lyse all microorganisms present in environmental samples.
Extract your target molecule
Extraction and purification involves applying the samples containing the target analyte (DNA, RNA, or protein) and to a spin filter with particular binding capabilities, going through a series of centrifugation and washing, and eluting the target molecule in a buffer appropriate for storage and downstream applications. Certain sample types or applications may require precipitation of your target molecule. DNA should be stored at -20°C or used in sequencing or other downstream applications.
Pro Tips:
Low yield may be due to few microorganisms in the environmental sample, degradation by proteases or sample contaminants, or aggregation due to heat generation during bead beating.
Use fresh soil samples whenever possible to avoid microbial loss and keep samples cool until they are ready for use.
Check the aggressiveness of your lysing matrices.
Chill your samples before and throughout the sample preparation process to avoid overheating.
Low molecular weight of target molecules due to the lysis matrix being too aggressive causing harsh molecular shearing by physical impact of beads.
Consider using beads that produce a low shear, medium impact, such as lysis matrix E.
FastDNA™ MagBead Kit for Soil,
Meet the newest member of the FastDNA kit family, the FastDNA™ MagBead Kit. Uncover the power of FastPrep combined with magnetic beads for unbeatable isolation of ready-to-use genomic DNA.
View Product
Typical Soil Sample Recommendations
| | | | | |
| --- | --- | --- | --- | --- |
| Sample Type | Quantity | MP Bio Lysing Matrix | FastPrep Speed | FastPrep Time |
| Soil/Rock | 50 mg | E | 5.5 | 2 x 30 sec |
| Sandy Sample | 50 mg | E | 4.0 | 4 x 30 sec |
| Litter | 50 mg | E | 5.5 | 40 sec |
| Brunisol - Dark Gray Luvisol | 500 mg | E | 5.5 | 2 x 30 sec |
| Soil from Grassland | 500 mg | E | 5.5 | 2 x 30 sec |
| Rhizosphere | 500 mg | E | 6.0 | 40 sec |
| Marine Sediment | 500 mg | E | 5.5 | 2 x 40 sec |
| Asphalt-permeated Soil | 500 mg | E | 6.0 | 40 sec |
FastPrep-24™ 5G
High-quality results start with high-quality samples. Enhance the reliability of your sample preparation procedures with FastPrep™.
View Product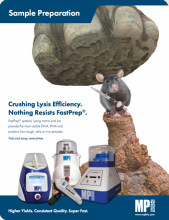 Sample Preparation Brochure
Explore our comprehensive guide to efficient processing of any sample type.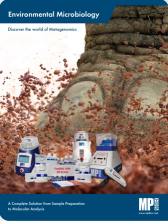 Environmental Brochure
Discover MP Bio's solutions to dealing with complex environmental samples.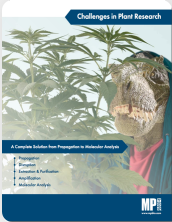 FastDNA™ SPIN Kit for Soil
Quickly and efficiently isolate PCR-ready genomic DNA from any environmental sample in less than 30 minutes.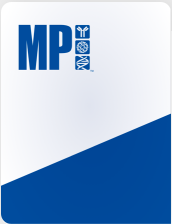 Nucleic Acid Extraction
Learn how our complete product range can help you isolate and purify high quality DNA and RNA.