Applications of NZ bovine proteins
Types of Bovine Proteins from MP Biomedicals New Zealand
MP Biomedicals chromatographically purified bovine AlbumiNZ has demonstrated superior growth rates in cell culture (CHO and SP2/0 cells) compared with traditional Cohn and Heat Shock BSA.
Graphs depict a comparison in quality, yield and productivity using MP Biomedicals Low IgG BSA versus an industry leading competitor BSA.
The scale of the bioreactor was 10,000 L and the processed cell line was a murine myeloma NS0.
This evaluation was done by a prominent worldwide biopharma company.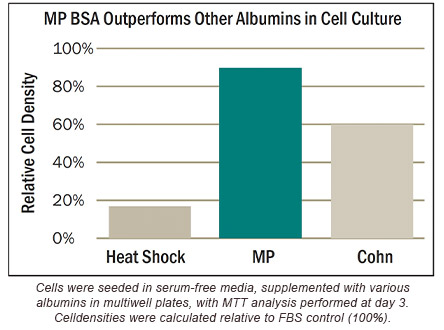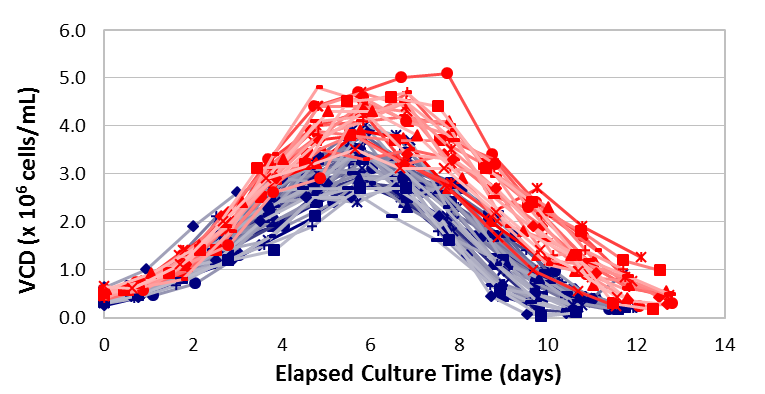 "Chromatographically purified NZ BSA from MP Biomedicals has been tested successfully with parasite infected cell lines representing all major endemic continents. Additionally, DNA transfections using various selectable agents (WR99210, blasticidin S, trimethoprim) have shown to be successful and it is also compatible with the c-SNARF limiting dilution assay."
Redirecting in

3

seconds...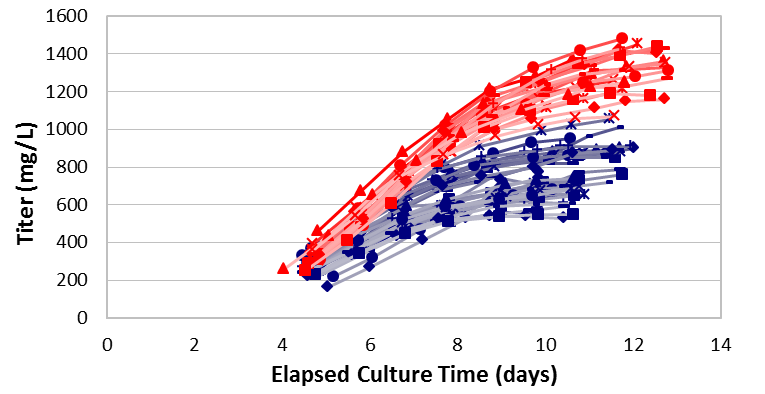 "Mouse embryos cultured in the New Zealand BSA had comparable cell numbers to the HSA control"
(customer evaluation, 2011)
Redirecting in

3

seconds...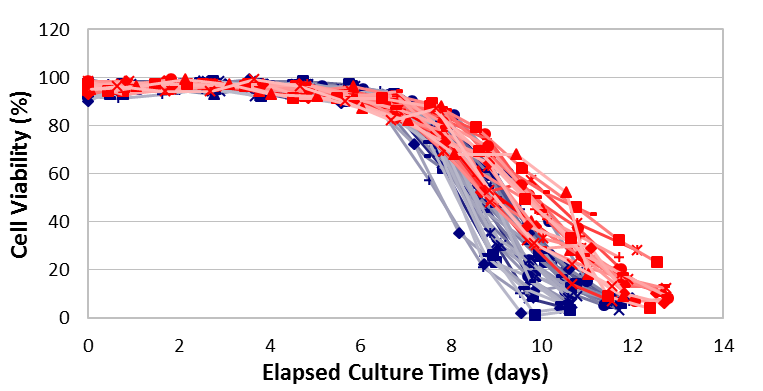 "The use of MP Bio-New Zealand BSA during IVF and IVC resulted in more and better quality embryos than a competitor BSA"
(Schumann, Theriogenology (2002) 57:1:527)
Redirecting in

3

seconds...
Higher quality compared to Heat Shock BSA
Higher monomer to dimer ratio in the chromatographically purified AlbumiNZ BSA

Fewer bands on SDS-Page in the chromatographically purified AlbumiNZ BSA indicating a higher purity of the BSA
10% Gel
Lane 1: Heat Shock BSA
Lane 2: AlbumiNZ™ Low Free Fatty Acid BSA
Lane 3: AlbumiNZ™ Low IgG BSA
Lane 4: AlbumiNZ™ Low Endotoxin BSA
Lane 5: AlbumiNZ™ Microbiological Grade BSA
Lane 6: MW Standards (kDA listed)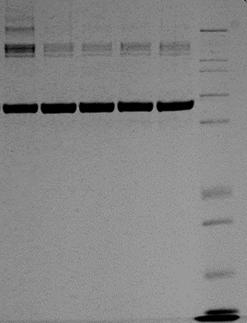 Higher Lipid content compared to competitor BSA
Except for the low free fatty acid BSA, all other MP Biomedicals New Zealand BSA grades returned a lipid content of 35 mg/g of BSA when tested by an independent laboratory. This is 2.5x higher than the lipid content in competitor BSA produced from a chromatographic and heat shock process.
This high lipid content can benefit cell culture researchers by way of reducing the need to add components such as cholesterol concentrate or other additives and could lead to significantly higher titer values at scale