AlbumiNZ™ Bovine Serum Albumin (BSA) and Applications
Bovine serum albumin (BSA) is a protein extracted from bovine serum and its main biological function is to regulate the colloidal osmotic pressure of blood. It is also used as a transport protein since it binds water, Ca2+, Na+, and K+, fatty acids, bilirubin, hormones and drugs. MP Biomedicals AlbumiNZ™ BSA can be used in a wide range of applications, including biosimilars, media applications, stem cells, bacterial and viral vaccines, infectious disease research and embryo transfer

BSA is commonly referred to as fraction V after the original Edwin Cohn purification methodology that made use of the different solubility characteristics of plasma proteins. MP Biomedicals NZ uses a chromatographic method of extraction that does not rely on the use of solvents or heat. The aqueous based process does not require stabilizers to be added leading to a more natural BSA.
Learn More
But what type of BSA should I use for my experiment?
A range of BSA for various applications:
Microbiological Grade Bovine Albumin (Cat. # 02180620)

Apart from being low in endotoxin and protease activity, this grade has a very low ammonium content. It has been found to work very well in bacterial and viral cell culture, animal vaccine production and as a media supplement in infectious disease research applications.

Low IgG Bovine Albumin (Cat.# 02199897)

The material of choice for preparation of monoclonal antibodies, for southern and northern blots, in blocking agents for EIA and RIA assays, and in general immunoassay work. The IgG is removed using highly specific affinity chromatography, and each batch is guaranteed to have an IgG content of ≤ 0.05 mg/g of protein.

Low Free Fatty Acid Bovine Albumin (Cat.# 02199899)

Low fatty acid bovine albumin is the material of choice for all in-vitro embryo production work, as well as a nutritional and surfactant additive for embryo transfer techniques. Used in general cell and tissue culture, in stem cell media as a supplement, and as a carrier in serum-free media. Every batch is guaranteed to have a free fatty acid content of ≤ 0.05mg/g of protein.

Citations:

* References citing the use of gamma irradiated low free fatty acid in embryo transfer applications. MP Biomedicals New Zealand Ltd was formerly known as ICP Bio

Essentially Protease Free Bovine Albumin (Cat. # 02199898)

Used in diagnostic applications or where very low or no proteolytic activity is desired. The protease content is negligible at ≤ 0.0002 units/g of protein.

Ultra-Low IgG Bovine Albumin (Cat. # 02FC0076)

While the low IgG BSA (Cat.#02199897) has an IgG limit of up to 50 ppm, in certain applications this level becomes an antigen for cross-reacting secondary antibodies. Its presence can alter precious experimental data, resulting in reduced purification yields. These levels may also be problematic for certain recombinant protein or monoclonal antibody purification processes. For such applications, MP Bio NZ offers an ultra-low IgG grade of BSA where the IgG content is brought down to as low as 4 ppm.

Low Endotoxin Bovine Albumin (Cat. # 02199896)

With an endotoxin limit of 1 EU/mg, this grade is used in general cell and tissue culture, as a media supplement in stem cell research and as a carrier in serum-free media.
The extraction process employed greatly affects the quality of BSA. A comparison of the BSA obtained for the 3 commercially available extraction processes are given in the table below:
| Feature | Heat-Shock | Cohn | Chromatographic |
| --- | --- | --- | --- |
| Functionality | Low | Medium | High |
| Monomer Content | Low | Medium | High |
| Price | Low | Medium | High |
| Batch Size | Large | Medium | Flexible |
Bovine plasma proteins manufactured by MP Biomedicals in Auckland, New Zealand are extracted from bovine plasma using chromatographic extraction process that does not involve the use of heat, organic solvents or stabilizers.
This results in a product with superior protein integrity, thereby maximizing cell growth and cell expression performance. Our state-of-the-art chromatographic purification process ensures:
Enhanced cell nutrition
Greater cell number yield
Higher value than competition
Lipid-rich protein
MPBio chromatographically purified bovine AlbumiNZ™ has demonstrated superior growth rates in cell culture (CHO and SP2/0 cells) compared with traditional Cohn and Heat Shock BSA.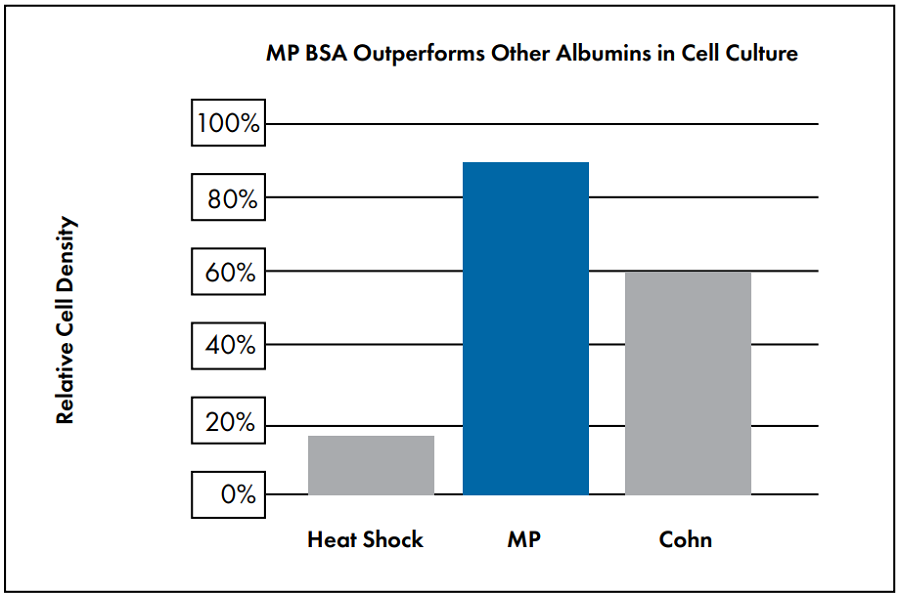 Note: Cells were seeded in serum-free media and supplemented with various albumins in multi-well plates, with MTT analysis performed at day3. Cell densities were calculated relative to FBS control (100%).
All products are manufactured using New Zealand sourced raw materials. Documentation standards at MP Bio NZ are of the highest order and can support the exacting standards that are often sought by the pharmaceutical industry, which operates in a highly regulated environment.

MP Biomedicals has an ideal option for your requirements. Contact us to learn more about our full array of services.