Chemiluminescence (ChLIA)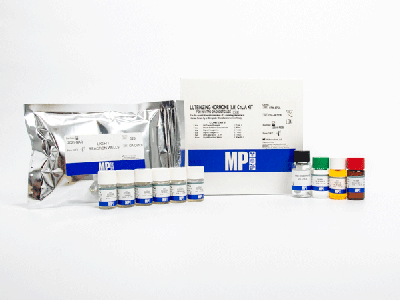 Highly Sensitive Detection of Hormones using MP Chemiluminescence Immunoassays
Our goal is to provide scientists with powerful research tools to help aid in the discovery of treatments for disorders that many people and animals suffer from today. MP Bio offers hormone detection kits to enable you to conduct critical research vital to advancing our knowledge of hormone function. Our highly sensitive immunoassays for detecting hormone concentration levels have been utilized in laboratories all over the world. For over 30 years, our reliable tests have helped scientists collect valuable information pertaining to endocrinology research.
Simply rely on what works.
Ultra-Sensitive: Low Limit of Detection
Simple: Easy-to-Use Protocol
Time-Saving: High-Throughput for Multiple Samples
Efficient: Small Sample Volumes
Informative: Quantitative Measurements
Fast: Short Incubation Times
Flexible: Ability to Adapt to a Variety of Animal Species
Analytes Measured by MP Chemiluminescence Immunoassays Kits
Stress Hormones
Cortisol, hGH, Prolactin
Thyroid Hormones
T3, T4, TSH
Digestion/Metabolism Analytes
C-Peptide, Insulin
Reproductive Hormones
E2, FSH, hCG, LH, Progesterone, Prolactin, Testosterone
Other Endocrinology Hormones
17OHP, DHEA, DHEA-S
*Kits are designed for use with human samples; however other species may be effectively analyzed. All kits are available for research use. Some kits may be cleared for IVD use. Contact us for more information.