Rapid 2019-nCoV IgG/IgM Combo Test
MP Bio now offers a rapid diagnostic test detecting IgG and IgM antibodies of COVID-19. MP Rapid 2019-nCoVIgG/IgM Combo Test Card is an immunochromatography based one-step in vitro test. It is designed for the rapid qualitative determination of IgG and IgM antibodies to 2019 novel coronavirus (2019-nCoV,SARS-CoV-2) in human serum, plasma, or whole blood. MP Rapid 2019-nCoV IgG/IgM Combo Test Card is a supplementary detection for COVID-19 infected suspected individuals besides nucleic acid testing, which could greatly raise the accuracy of the detection for COVID-19.
RAPID AND CONVENIENT: Results in 10 minutes. Requires no instruments.
DETECTION OF DIFFERENT CLINICAL STAGES: Infection time can be roughly judges by detecting IgG or IgM.
OPTIMIZED DETECTION: Can detect specific antibodies to both N and S virus proteins for improved serological detection rates.
SPECIMENS: Easy sampling, only 2 μL of serum, plasma or whole blood is needed.
STORAGE: Room temperature, 18 month shelf life.
Usage Statement
This product is CE-IVD marked for professional use and complies with the European In-Vitro Diagnostic Devices Directive (98/79/EC). Not for sale in the USA.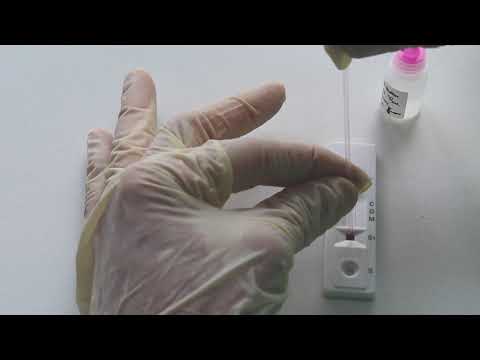 | | |
| --- | --- |
| SKU | 07RDCOV19 |
| Analyte / Target | IgG and IgM antibodies to COVID-19 |
| Base Catalog Number | RDCOV19 |
| Components | Rapid 2019-nCov IgG/IgM Combo Test Card x 25, sample buffer, capillary pipettes and instructions for use. |
| Disease Screened | Coronavirus disease 2019 (COVID-19) |
| Pack Size | 25 Tests |
| Sample Type | Plasma, Serum, Whole Blood |
| Sample Volume | 2 uL |
| Sensitivity | 94.74% |
| Species Reactivity | Human |
| Specificity | 97.06% |
| Storage | Store the kit and it's components at 2 °C - 30 °C. |
| Usage Statement | This product is CE-IVD marked for professional use and complies with the European In-Vitro Diagnostic Devices Directive (98/79/EC). Not for sale in the USA. |