Top qPCR & PCR Kits and Reagents
A complete solution from sample preparation to molecular analysis of environmental samples.
Read Brochure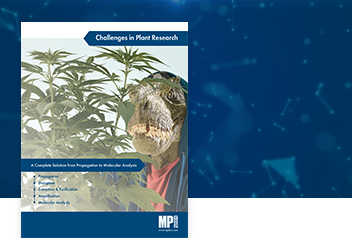 A complete solution from propagation to molecular analysis dedicated to answer any plant research needs.
Read Brochure
Unparalleled specific and sensitive quantification
Real-time PCR is one of the most powerful and sensitive gene analysis techniques available and is used commonly in diagnostic, agricultural, biotechnology and pharmaceutical research.

Many delicate real-time PCR assays require maximal specificity and sensitivity. Pathogen detection or expression profiling of rare mRNAs for example require high sensitivity while SNP detection or viral quantification require high specificity.

MP Biomedicals offers ready-to-use mastermixes for qPCR with probes as well as mastermixes containing SYBR® Green developed for fast and reproducible real-time PCR with maximal specificity and sensitivity.

The mixes contain all the components necessary for qPCR with the exception of template and primers. The concentrations of the components (MgCl2, dNTPs, SYBR® Green and ROX) have been optimized to give the highest levels of amplification with no primer dimer formation. All qPCR & Go Mastermixes can be used on all real-time instruments and are also ideal for the new generation of fast-cyclers.