The Challenge: Plants Are Tough To Lyse
Plants can be very fibrous and contain high levels of polyphenolic compounds, polysaccharides, and RNases, making plant tissue homogenization challenging and making it extremely difficult to extract enough usable DNA, RNA, or protein (or other target analyte) for downstream applications.
To get high-quality nucleic acids or proteins in high yield, your pretreatment, homogenization, and extraction steps need to be well thought out. Ideally, you'll achieve:
Thorough disruption of plant cell membranes and refractive cellulose cell walls in seconds
Ready-to-use DNA, RNA, and/or proteins for all your experimental needs
Total removal of polysaccharides, polyphenols and other metabolites that can inhibit downstream applications
Excellent reproducibility for optimum assay-to-assay consistency
Each step of your protocol will vary depending on your plant species, sample type (e.g., leaf, flower, root, seed, etc.), target analyte and downstream application. However, it is important to recognize that results obtained for the same plant and application often differ between researchers, making it challenging to identify the best methods and tools for a specific project.
Many labs have tackled the question of "what works best" for their area of study to help fellow researchers make better decisions for sample preparation and to better standardize their own protocols.
Recent Publications Testing "What Works Best" in Plant Sample Preparation
Lysing Matrices
Get reproducible homogenization with MP Bio's bead beating tubes and ready-to-use lysing matrices for any sample type.
View Products
Phases Of Plant Sample Preparation
Starting Material
It starts with what you collect and from where. Proper handling of your starting material sets your experiment up for success. When possible, use fresh plant material to preserve the level of DNA, RNA and protein upon sample collection. If the samples need to be frozen, it is essential that cells are immediately flash frozen after the plant tissue harvest and are stored at -80°C.
Pretreatment
With plants being inherently resilient, you may need to treat the sample prior to disruption to make plant tissue homogenization easier and faster and to ensure you'll obtain high-quality DNA and RNA in high yields.
Examples of Pretreatment Methods:
Cutting the sample into smaller pieces
Pre-washing to eliminate contaminants or interfering metabolites
Soaking or macerating the sample to make it softer
Flash freezing the sample to make it brittle
Lyophilizing the sample to completely dry it out
Any one, or multiple, of the methods mentioned can be applied, but the ideal pretreatment condition(s) depends on your specific sample, application, and throughput needs.
Pretreatment in action:
Soaking corn grains to isolate genomic DNA

Abdel-Latif and Osmen compared three different methods for isolating high-quality genomic DNA from the grains of cereal crop, but use a similar pretreatment and homogenization method for each extraction method tested. They soaked the grains in water for 24 h at 25°C and used a scalpel to isolate the embryos. The grains were crushed into a fine powder using a mortar and pestle using liquid nitrogen.
Pre-washing macerated plant samples to extract nucleic acids

Inglis et al. found that a sorbitol buffer pre-wash helped to consistently extract high-quality DNA and RNA from challenging plant samples for high-throughput SNP genotyping and sequencing applications. The pre-wash appears to remove interfering metabolites, such as polyphenols and polysaccharides, from plant tissue macerates.
Homogenization
Plant tissue homogenization requires direct mechanical force. You can obtain a fully homogenized sample by using tools such as a mortar and pestle, Lysing Matrices, and/or dedicated bead-beating instruments (e.g., FastPrep Instruments).
MP Bio offers several Lysing Matrices suitable for plant tissue homogenization and proven to be appropriate for extracting various target molecules. Lysing matrix tubes come in a variety of sizes from 2 mL to 50 mL tubes, and even in a 96-well format. Additionally, many of the lysing matrices are included in our extraction kits.
| | | | |
| --- | --- | --- | --- |
| Lysing Matrix | Bead Content | Sample Type | Extraction |
| A | Garnet matrix and 1/4 inch (6.35 mm) ceramic spheres | Bacteria, yeast, fungi, plant | DNA, Proteins |
| D | 1.4 mm ceramic sphere | Plant | RNA, Proteins |
| M | 1/4 inch (6.35 mm) ceramic spheres | Plant | Virus isolation from tissue, organelle, mitochondria |
| SS | 1/4 inch (6.35 mm) stainless-steel grinding balls | Tough tissues: seeds, spores | DNA, RNA, Proteins |
FastPrep Instruments are ultra-high-performance sample preparation systems that allow for the extraction of fully intact, biologically functional macromolecules from routine and highly resistant samples and is well suited for MS-based proteomic applications.
During plant tissue homogenization, phenolic compounds oxidize and irreversibly bind to proteins and nucleic acids. If unprevented, a gelatinous material bound to nucleic acids renders the DNA unusable for PCR or restriction enzyme digestion. To combat this, you should use cell lysis solutions optimized for plant samples, create cold or cryogenic conditions to slow reactions, and consider dividing the sample into two aliquots and diluting each sample to make it easier to handle.
Addressing common plant tissue homogenization problems:
If you end up with a very viscous or gel-like lysate after adding Lysis Solution to plant material, it may be too viscous to pipet after homogenization due to the plant material containing too much DNA.
Pro Tip: Divide the sample into two aliquots and adjust the volume of each aliquot with lysis solution; continue with your homogenization procedure from this step.
If you are experiencing clogged spin filters, you may have an issue of insufficient homogenization of the starting material.
Pro Tip: Increase the time of homogenization with the FastPrep® instrument. After processing with the FastPrep® instrument, spin the lysate to pellet debris and continue with the protocol using the supernatant and increased g-force and/ or centrifugation times. All centrifugation steps should be conducted at room temperature.
If you continue to get a low yield of your target analyte from your thoroughly homogenized samples, consider making it cold.
Pro Tip: Cryogenic conditions make plant tissue homogenization easy and keep temperatures down, preventing the activation of endogenous nucleases and enzymes that would otherwise degrade the DNA, RNA, or proteins you are looking to isolate.
FastPrep-24TM 5G bead beating grinder and lysis system
Quickly process any tissue or cellular sample type and get the highest quality results and highest possible yield of DNA, RNA, and proteins by using the most advanced sample preparation system available.
View Product
Extraction
Once you've successfully homogenized your sample, you can use extraction methods commonly used for other types of samples, such as animal tissues, to isolate DNA, RNA, and/or protein. The classical CTAB method is often used for plants, with slight modifications (e.g., high-salt CTAB extraction) used to mitigate polysaccharide contamination. Alternatively, you can use SDS-based protocols, but this is only suitable for certain sample types and applications where denatured proteins are not an issue.
You can streamline your workflow by using commercial spin kits optimized for plant DNA, RNA, or protein extraction. For instance, the FastRNA Win Kit for Plants purifies up to 80 µg of high quality total RNA from up to 100 mg or 1 x 107 cells of plant material within 15 minutes following plant tissue homogenization. The extracted RNA contains enriched mRNA, and the particle size distribution of purified RNA is similar to results obtained using CsCl gradients.
The FastDNATM Kit, FastDNATM Spin Kit, FastRNATM Pro Green Kit and FastDNATM-96 Plant and Seed DNA Kit coupled with the FastPrep® Instruments make plant sample preparation fast and simple!
Recent publications using MP Bio FastPrep instruments or MP bio kits for plant sample preparation:
Wassermann, Birgit, Lise Korsten, and Gabriele Berg. "Plant Health and Sound Vibration: Analyzing Implications of the Microbiome in Grape Wine Leaves." Pathogens 10.1 (2021): 63.
Taffner, Julian, et al. "Exploring the Microbiota of East African Indigenous Leafy Greens for Plant Growth, Health, and Resilience." Frontiers in Microbiology 11 (2020): 2968.
MP Biomedicals offers solutions for other research applications from low- to high-throughput scale with a selection of sample preparation instruments, Lysing Matrix tubes and complete purification kits.
FastDNATM Spin Kit for Plant and Animals Tissues, 100 Preps
Quickly and efficiently isolate high-quality genomic DNA from plant and animal tissues using Lysing Matrix D (1.4mm ceramic beads) for cell lysis and a silica-based spin filter method for the purification process.
View Product
Typical Settings For Plant Tissue Homogenization
| | | | | | |
| --- | --- | --- | --- | --- | --- |
| Plant | Sample Type | Quantity | Lysing Matrix | FastPrep Speed | FastPrep Time |
| Alpowa Wheat | Leaf Tissue | 75 mg | D | 6.0 | 40 sec |
| Alpowa Wheat | Seed | 100 mg | A | 6.0 | 40 sec |
| Arabidopsis thaliana | Fresh Leaves | 50 mg | D | 6.0 | 40 sec |
| Arabidopsis thaliana | Fresh Leaves | 200 mg | D | 6.0 | 2 x 40 sec |
| Bartlett Pear | Leaf Tissue | 50 mg | D | 6.0 | 40 sec |
| Classic Oat | Leaf Tissue | 75 mg | D | 6.0 | 40 sec |
| Classic Oat | Seed | 100 mg | A | 6.0 | 40 sec |
| Corn | Leaf Tissue | 100 mg | D | 6.0 | 40 sec |
| Crest Barley | Leaf Tissue | 100 mg | D | 6.0 | 40 sec |
| Crest Barley | Root | 300 mg | A | 6.0 | 40 sec |
| Kaybonnet Rice | Leaf Tissue | 100 mg | D | 6.0 | 40 sec |
| Kaybonnet Rice | Seed | 100 mg | A | 6.0 | 40 sec |
| Klages Barley | Root | 300 mg | A | 6.0 | 40 sec |
| Klages Barley | Leaf Tissue | 70 mg | D | 6.0 | 40 sec |
| Tobacco | Leaf Tissue | 75 mg | D | 6.0 | 40 sec |
| Lafitte Rice | Leaf Tissue | 75 mg | D | 6.0 | 40 sec |
| Lafitte Rice | Sprout Leaf | 100 mg | D | 6.0 | 2 x 30 sec |
| Soybean | Seed | 100 mg | A | 6.0 | 40 sec |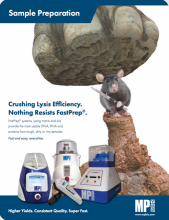 Sample Preparation Brochure
Quickly understand the options most suitable for your sample using this guide describing MP Bio's wide selection of high-quality lysing matrices and bead beaters.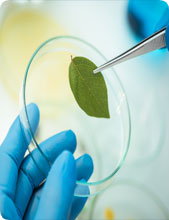 Tips and Best Practices For Extracting RNA from Leaves for qPCR Analysis
Learn how to obtain high-integrity RNA from your plant samples to generate reliable qPCR data.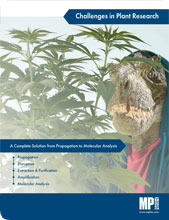 Challenges in Plant Research
Discover a range of reagents and instruments designed to overcome the many challenges of plant research.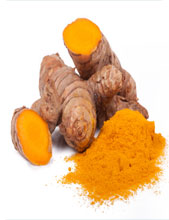 Tips and Best Practices for Lysing the Toughest Plant Samples
Learn how to streamline your sample preparation workflow by easily homogenizing difficult-to-lyse plant samples.