Your Partner for Customized Materials
MP Biomedicals is your partner for customized products or raw materials to meet your application needs. From large proteins to high purity buffers or organic chemicals MP Biomedicals has the capability of providing you products with custom specification in the desired volume from lab scale to pilot and industrial scale.
Redirecting in

3

seconds...
Adsorbents for Chromatography
Adsorbents for chromatography are highly standardized quality products for all ranges of application in laboratory and industrial scale chromatography. It also leads Purebred Adsorbents for the toughest applications.
We offer:
Extensive Selection
Custom Made Variations
Highest Grade of Standardization
Activities Available Exclusively from MP Biomedicals
Custom Package Sizes
Bulk Quantities
MP Biomedicals manufactures Woelm Adsorbents in Eshwege, Germany. In the late 1940s, Woelm Pharma successfully standardized its production procedure for Aluminas and Silica Gels, providing a high degree of reproducibility when used in laboratory and plant operations.
In 1984 the owner of MP Biomedicals acquired the Adsorbents division of Woelm Pharma and continued to introduce steady improvements to provide optimum separation products at affordable prices.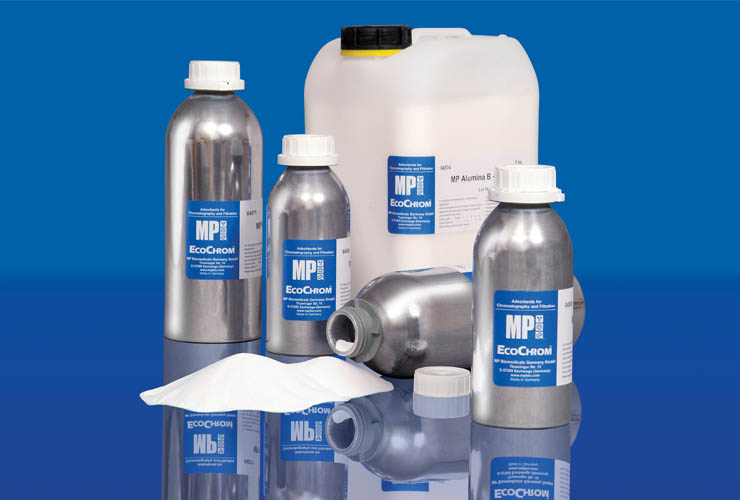 New Zealand Proteins
A specialized manufacturer of high quality biological products, MP Biomedicals New Zealand Limited has gained an international reputation in providing bovine plasma proteins to the bio-pharmaceutical, animal health and diagnostic industry. New Zealand sourced bovine plasma coupled with an ISO 9001 and cGMP audited quality system, that are further endorsed by EDQM TSE Certificates of Suitability (CEP) for key products, aim at the highest product quality standard in the bovine blood plasma industry.
All products are manufactured using New Zealand sourced raw materials. The European Food Safety Authority (EFSA) publishes a Geographical BSA-Risk Assessment (GBR), in which New Zealand is classified as Negligible BSE Risk, the lowest category possible. No BSE or List A animal diseases are present in the raw materials that we use.
MP Biomedicals New Zealand has the technical skills and the facilities needed, to offer custom manufacturing in the following areas:
Freeze Drying of Bovine products
Chromatographic purification
Extraction of Proteins from Bovine Plasma
Redirecting in

3

seconds...