How DSS induces physiological responses that mimic IBD
Chemically induced murine models of intestinal inflammation, such as DSS-induced colitis models, are widely used because they are easy to induce and the onset, duration and severity of inflammation are immediate and controllable. By titrating the amount of DSS up or down, you can model severe to mild inflammatory disease.
DSS works by direct and selective toxicity to epithelial cells. DSS causes a loss of surface epithelium, enabling luminal microbes and their metabolites enter the lamina propria and induce an inflammatory response (Figure 1).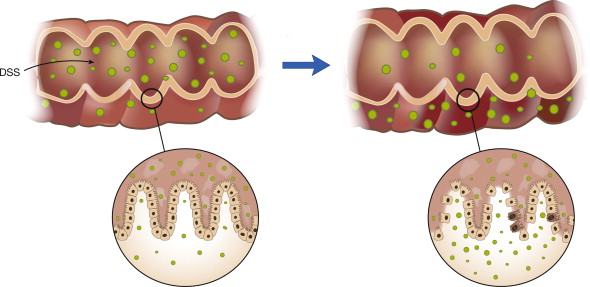 Figure 1. DSS is directly toxic to epithelial cells, causing loss of the surface layer of epithelial cells, enabling gut microorganisms and their products to enter the lamina propria, and stimulating an inflammatory response.