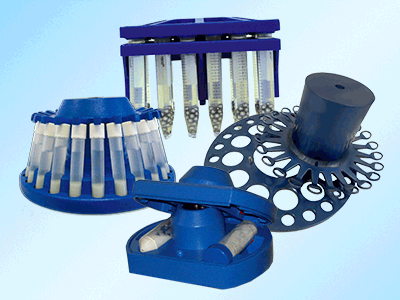 Adapters for the FastPrep® System are Flexible, Interchangeable and Available for Ambient or Cryogenic Sample Types
MP Bio offers the widest selection of adapters to best meet your sample preparation needs. Our adapters allow for sample sizes ranging from 2 mL to 50 mL tubes, 250 mL bottles and 96-deep well plates and are built for durability in ambient and cryogenic conditions. They also provide a cost-effective solution for research facilities with multiple laboratories. By purchasing individual adapters for each lab, research teams are able to safely transport their samples to a shared FastPrep instrument to homogenize, lyse and grind. Shop FastPrep-24™ adapters and FastPrep-96™ adapters.
Cryogenic Temperature Adapters
During mechanical lysis, the temperature within the lysing tube can increase and cause damage to the molecules within your sample. Cryogenic grinding is the easiest and most efficient way to prevent this overheating and protect samples.
Innovative cooling chamber design allows protection of thermosensitive molecules from heat degradation
Prevent temperature increases during homogenization
Ensure a highly effective grinding process for any sample
MP Bio's all-metal adapters are ideally suited for work with highly infectious, pathogenic, or other biologically hazardous samples. The metal construction design can withstand temperatures up to 450 ˚C, allowing for sterilization by pyrolysis or autoclaving.
Autoclavable to effectively eliminate most pathogens, including bacteria, viruses, fungi, parasites, viroids and prions
Easy care and safe to use with most laboratory detergents and sterilization solutions
Compatible with FastPrep-24™ Classic and FastPrep-24™ 5G
Available for 2 mL, 15 mL and 50 mL tube sizes
The ConeFlex Legacy adapter allows any existing FastPrep-24 adapter to be used with the FastPrep-96 instrument.